By Tycho de Feijter for 6th Gear Automotive Solutions. Haarlem, March 2019
Tesla has started rolling out a new safety feature for their Model 3 car: Dynamic Brake Lights. The main trick is that the lights flash quicker the harder the driver brakes. Under light braking, the brake lights will flash slowly. Under emergency braking, they will flash quickly. When braking quickly, the systems also turns on the hazard warning lights automatically. The lights will stay on until the driver presses the accelerator.
The new feature is intended to help avoiding rear-ending accidents. Tesla believed that other drivers will respond better to brake lights when they know how hard the car in front is braking, preventing unnecessary collisions. This is especially important for Tesla, whose cars are equipped with advanced autonomous driving systems. These systems include automatic emergency braking, allowing the car to stop very fast and with little warning. Dynamic Brake Lights will for now be only available in Europe, as U.S. regulations do not allow them.
Them most powerful Tesla Model 3 is the AWD Performance, equipped with two electric motors and four-wheel drive. Combined output is 473 hp and 639 Nm. This being an electric car; all power is always available, resulting in a supercar-beating 0-100 of 3.4 seconds and a top speed is 261 kilometers per hour. Range (WLTP) is 530 kilometer.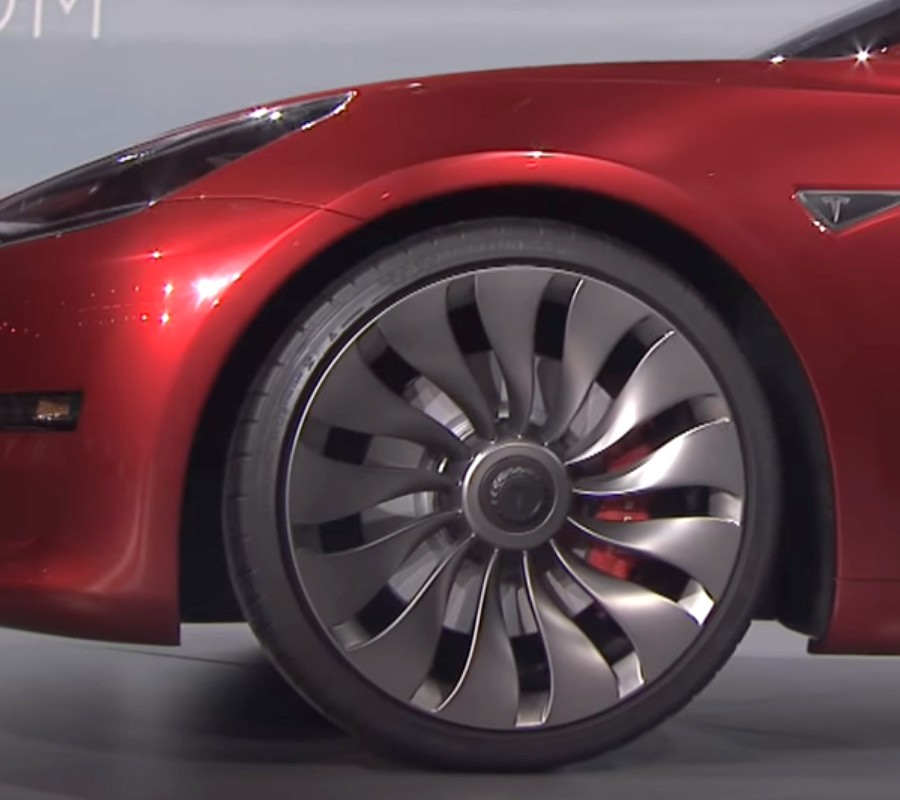 The Model 3 has regenerative braking, charging the battery when the driver slows down or brakes. Wheels, on the performance version, are 20 inch giants. The steel brake discs are supplied by Bremb0. Front brake disc size is 335 millimeter, and rear brake size is 320 millimeter.  The brake size is very-near supercar size; the new Ferrari F8 Tributo for example has 398 front and 360 rear. But it has 720 horses and tops out at 340 kilometers. So relatively speaking, the Tesla Model 3 has far bigger brakes than the Ferrari.