By: Tycho de Feijter for 6th Gear Automotive Solutions.
Beijing, May 2018
Austrian motorcycle maker KTM is working on an automatic brake system for its motorbikes. The brake system is part of a larger rider-assist package, developed to enhance safety. The technology is similar to what found in many modern cars, but it is not available on motorbikes yet.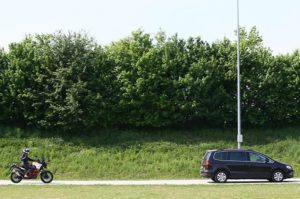 The technology works with two sensors, fitted on the front and rear of the bike. The front sensor is used to feed data to an adaptive cruise control system. When the cruise control is activated it locks on the vehicle in front of it, adjusting speed using automatic throttling and braking.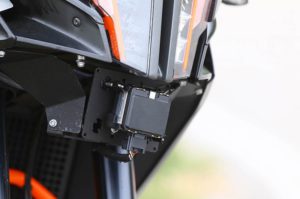 The motorcycle will keep a pre-set distance between itself and the vehicle ahead. If this vehicle suddenly brakes, the bike will automatically brake as well. When the sensor detects a possible collision, the system will brake harder. The rear sensor is basically a blind-spot detector. Whenever it detects any vehicles in the motorcycle's blind spot, it will show a warning light on the mirror and on the rider's dashboard.
The new driver-assist technology is currently it its development phase. KTM expects the technology to become commercially available around 2020.
The system was tested on the KTM 1290 Super Adventure, fitted with a 320 mm disc brake at the front and a 267 disc brake at the rear.