By: Tycho de Feijter for 6th Gear Automotive Solutions.
Beijing, May 2018
The EV revolution is in full swing in China. There was no better place to see so than on the biennial Beijing Auto Show, where many of China's famous New Energy Vehicle (NEV) startups showed their latest products. Here are the five most promising cars we saw on the show:
Aiways U5 Ion
Aiways was founded in 2017. They are based on Beijing with an R&D facility in Shanghai and a subsidiary in Germany. Aiways' stands for 'Ai on the way', where AI stands for Artificial Intelligence. The U5 Ion is their first car; a compact crossover with a range of 460 kilometre. It will launch in the fourth quarter. Next up are an MPV, a pickup truck, and a sedan.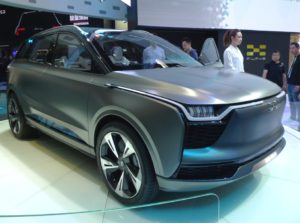 Sitech Dev 1
Sitech is a new brand partially owned by First Auto Works (FAW). The company is based in southern China's Guizhou Province. The DEV 1 is their first car; a small hatchback with a range of 300 kilometers. It will hit the market in September. Sitech also signed an agreement with bike-sharing company Mobike to produce vehicles for a new car-sharing program.
Weltmeister
Weltmeister is a Shanghai-based company founded by ex-Geely employees, with close ties to Germany. The name Weltmeister means World Champion, in German. Their first car, the EX5, has just been launched, priced from $23,000. The EX5 is a compact SUV, a larger EX6 SUV will launch next year. Weltmeister also cooperates with Isdera GmbH for the revival of the iconic Commendatore supercar.
Singulato iS6
Singulato is based in Beijing, founded in 2014, making it the 'oldest' startup of this list. The company's founders all hail from tech companies. The iS6 will hit the market in the second half of the year for about $30,000. It is a large seven-seat SUV with an impressive 348 hp on tap. Most interestingly, the iS6 has Rolls-Royce style suicide doors. Next up is an MPV called the iM8.
Yudo Pi 7
Yudo is the most established of the NEV startups, building affordable EVs for the masses. They are based in Fujian Province and partially owned by the local government. Yudo already has two small electric crossovers on the market, the Pi 1 and Pi 3, retailing for $11,200 and $17,300. The Pi 7 is their largest car so far, almost five meters long and with a 400 kilometer range. Launch date is early 2019.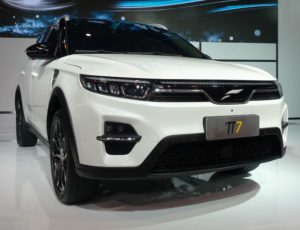 There was much more to see on the Beijing Auto Show, watch this space!