Our beloved reliable Japanese Honda has to recall 350 Civics for parking brake issues. The defect can be fixed with a software update. The recall covers Civics with both the 1.5-liter turbo and 2-liter engines.
The electric parking brake may not engage when the engine is turned off, leading to the possibility that the car could roll away and crash.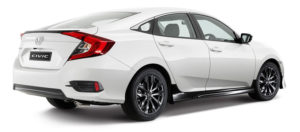 The problem involves software in the vehicle stability control unit. Honda says it is programmed in such a way that it prevents the electric parking brake from being applied. The problem occurs when the driver tries to apply the brake after the engine is switched off. The brake warning light will signal there's a problem to drivers. And the defect doesn't appear if the brake is applied before the engine is turned off.
Even though a large number of cars are involved, Honda says no accidents have occurred as a result. The issue was discovered by analyzing warranty claims. Honda says it found 342 cases in which the problem occurred.
It's not uncommon for new models to be recalled, but the pullback doesn't help the redesigned Civic, which has been a sales hit in an otherwise slow compact-car market.