BMW has made a small step presenting a plug-in hybrid last Wednesday.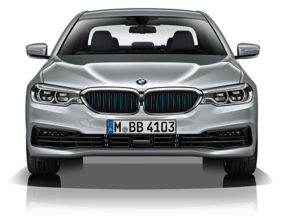 The BMW 530e iPerformance combines an electric motor and a 4-cylinder TwinPower Turbo petrol engine to create the high efficiency BMW eDrive plug-in hybrid drive. This enables purely electrical, locally emission-free short-range driving with a dynamic driving performance and – combined with the 4-cylinder petrol engine – long-distance capabilities. And by short distances, we really mean short. When running on electricity alone, the vehicle has a range of around 45 km and an electric top speed of 140 km/h (for those who want to run out of battery fast, we guess).
However, let's not be too sarcastic for this Friday and let's mention that the vehicle can be charged from household power sockets with the charging cable included (wow!) or on the go from public charging stations with a cable available from BMW accessories (not included then?). The navigation system and BMW Remote App give information about the location and availability of suitable (!) stations. Billing can be carried out via the BMW ChargeNow card.
For those who want to read more, go to the flashy intro website here