Stuttgart/Bremen – Mercedes-Benz takes the next step for the implementation of its electric offensive: The first production model of the new EQ product brand is to be produced in Bremen by the end of 2019.
"Emission-free automobiles are the future. I am pleased that for the series production of our first electric EQ model. The Bremen plant delivers a maximum of flexibility and high speed as well as Mercedes quality from the beginning, also for our electric models," says Dr. Dieter Zetsche, CEO of Daimler AG and Head of Mercedes-Benz Cars.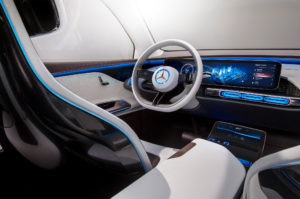 The production model will be based on the EQ show car – an electric vehicle in the look of a sporty SUV Coupé, that was presented at the "Mondial de l'Automobile 2016" in Paris in September. With a range of up to 500 kilometers and the typical Mercedes strengths such as safety, comfort, functionality and connectivity, the show car is forerunner of a new era.
Mercedes-Benz Cars aims to have over ten all-electric vehicles in its portfolio by 2025.
The new electric vehicles can be built within the existing global production network with sites on four continents.
The product portfolio of the Bremen plant currently consists of ten different models. Next to vehicles with conventional combustion engines, plug-in hybrids of the C-Class and the GLC are also rolling off the production line.