Porsche has confirmed that its Mission E charging infrastructure will work with Tesla vehicles. The ultra-fast, 800-volt charging system will recharge the Mission E to 80% in about 15 minutes, and will also service new electric vehicles from Volkswagen and Audi. Porsche CEO Oliver Blume told Top Gear that development of the charging infrastructure "sounds easy but getting the details agreed is hard. We already have the clear technical concept. It can even work with Teslas, with an adapter." Dieter Zets
che, Head of,Mercedes-Benz, also tells Top Gear that they are "in talks" with Porsche regarding charging infrastructure.
Tesla has a significant lead with electric vehicle fast-charging. The Tesla Supercharger currently being deployed have a capacity of 145 kW – 450V at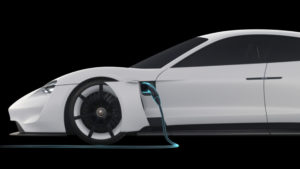 335A – and the company's vehicles can receive up to 120 kW or about twice the power output of all other electric cars currently available.
Yet, Porsche is talking about a system about 2x faster.
Tesla has always been opened about letting other automakers use its network, but until the Mission E and other long-range vehicles with big battery packs hit the market, it wouldn't really be useful.
Source: Top Gear