Amber One is a car designed to help eliminate the huge amount of time our own vehicles currently spend idle.
The all-electric concept has a 250-mile range on a single charge, a top speed of over 93 mph, and a 0 to 60 time of a respectable 7 seconds. But you can't buy one – to gain access, you subscribe to a service at a cost of €33 (around $37 U.S.) per week, which will let you use any available Amber One nearby.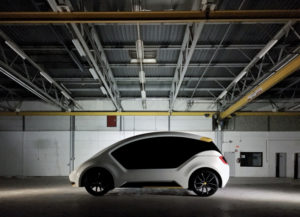 Amber One is a lightweight, long range, highway capable electric vehicle with a lifespan of over 1.5M kilometers. It is a modular car that will be easily upgradeable to the latest technology. And it is fully personalizable to any user that steps in. The long lifespan and modularity reduce costs, and the user experience is optimized. We are implementing the economic models and technology from the smartphone, aircraft and truck industry here. We have the team and the ecosystem to create and build such a car. Integrating the hardware and the service will set us apart from the competition. With an investment of €60M Amber Mobility will give the Dutch automotive industry a brand new position in the €3 trillion automotive market.
Thanks to partnerships with leasing giant Athlon and ABN AMRO bank we will start in October 2016 with Corporate Mobility, the precursor to Guaranteed Mobility. In this business to business environment we will test and develop our software and service. We are already in discussion with NXP, ASML, Philips and others to also start a Corporate Mobility hub on the High Tech Campus.
The Amber One is set to enter production in 2018, with prototypes hitting the road next year. Service will initially kick off for corporate partners in limited pilots at the end of this year, but consumer rollout of the service is expected in 2018, beginning in Amber's home turf of Eindhoven, the Netherlands.
Contact
Amber Mobility
Email: team@amber.team
Twitter:
@ambermobi
Facebook:
/ambermobility
LinkedIn:
Amber Mobility